Bookzangle is an international group of booksellers who believe that quality of books and quality of service far outweigh simple quantity of listings. Collectively, we offer one of the world's best and safest book buying sites.
Buyers at this site can see the Customer Guarantees here, which are agreed to upon joining by each Bookzangle bookseller. You can shop for books at this site with perfect confidence, knowing that the books offered are as described and will be shipped to you promptly upon your order, carefully and professionally packaged.
FEATURED BOOKSELLER

The Dusty Bookshelf
The Dusty Bookshelf first opened inside a little storefront in Manhattan's Aggieville in 1985. Due to the kindness of many customer volunteers,The Dusty Bookshelf moved twice before finallysettling in its current home on the corner of Manhattan and Moro in 1991.
The handmade shelves full of books occupy a building in Aggieville that has come full circle, beginning as a college co-op bookstore, then transforming into a men's clothing store, and finally housing a bookstore once more.
Featured Books from The Dusty Bookshelf (click on picture for full listing)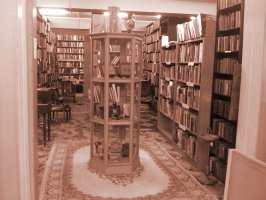 Browse our Book Categories