Bookzangle is an international group of booksellers who believe that quality of books and quality of service far outweigh simple quantity of listings. Collectively, we offer one of the world's best and safest book buying sites.
Buyers at this site can see the Customer Guarantees here, which are agreed to upon joining by each Bookzangle bookseller. You can shop for books at this site with perfect confidence, knowing that the books offered are as described and will be shipped to you promptly upon your order, carefully and professionally packaged.
FEATURED BOOKSELLER
Easy Chair Books
Easy Chair Books is a online bookstore specializing in out of print books, fiction and non-fiction, vintage paperbacks and more.
We have over 40,000 books in stock and are adding more daily. Scott and Angela Harris bought the old Methodist church in Lexington, Missouri and it now houses their family (with their 3 kids who are still at home) as well as the bookstore.
Featured Books from Easy Chair Books (click on picture for full listing)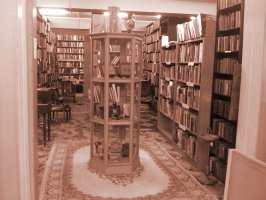 Browse our Book Categories